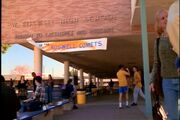 West Roswell High School is attended by Liz Parker, Max Evans, Isabel Evans, Maria DeLuca, Alex Whitman, Kyle Valenti, and occasionally Michael Guerin. West Roswell High's school colors are gold and blue. The football team are known as the Comets.
Other notable Roswell High Students:
Ad blocker interference detected!
Wikia is a free-to-use site that makes money from advertising. We have a modified experience for viewers using ad blockers

Wikia is not accessible if you've made further modifications. Remove the custom ad blocker rule(s) and the page will load as expected.